APRIL 2005:
I am just rehabilitating myself back into polite British society once again after a week spent slumming it in the studio with noisy monsters of electro indie rock
Samson,
and what a week it has been!
Samson are ostensibly a Munich-based band although their workshop is a dilapidated factory space in the market town of Dorfen, some miles from the city.
Samson have been recording three new songs: the almost conventionally rocky "Boxer", the experimentally hip-hop inspired "Reptile Returns", and the insane sonic anarchy of "Dog Raiser". And then, as if spending a week with these guys at the controls of their new E.P. wasn't honour enough, I was invited along to a fantastic gig at Munich's

Orange House

venue, given loads of free booze and then invited up on stage to play bass on an old Monophobia track "Devil's Eye". A definite high.

Samson comprises founder member Hendrik Richter on samples, programming and guitar and Flo Sochatzy on bass. The band is fronted by former Monophobia keyboard player/vocalist Zizi Schuh who was brought in by Samson's now ex-guitarist and co-founder Stephan in 2003, as a temporary replacement for their absent singer Luitgard. Luitgard never returned to the band and so Zizi stayed and, by the boys' own admission, took things up a notch or two in terms of presence and promotion.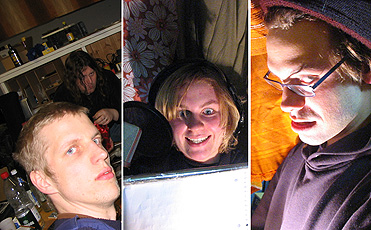 After 5 days in a studio with me, Samson go a little strange...