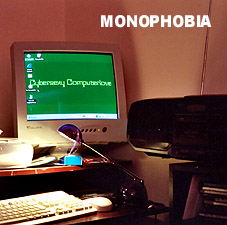 This page contains links to all sites, bands and artists connected with Monophobia. The various music hosting sites also feature thousands of other unsigned bands worldwide.
Check out these amazing bands...








Joy Division / New Order album cover designs for your desktop...
DOWNLOAD MP3s... You can listen to Monophobia and Spaghelli tracks on the following sites:
More links for bands and other stuff...
GRACELANDS REHEARSAL STUDIOS: Friendly, grungy underground band rooms in West London with decent kit, helpful owner, flexible hours, kitchen area, shop, and unbelievably good rates. Perfect for weekend DIY recording sessions!
Slap Studio: A very professional recording studio in Brixton with two easygoing, hard-working engineers on the case.
BANDMAN! Excellent new site for good insigned UK bands to get reviews. Started in 2006.