Wasted
Dave got fed up again by around April and so it was time to get another drummer.
After several weeks of auditioning the crappiest drummers they'd ever heard, 17-year-old multitalented musical prodigy Kian Chanter joined in May. Within weeks of joining the band he'd written a soulful new song with Phil and Nimesh (who was by this stage shoehorning in some disturbingly good Oasis/John Squire-type riffage) when Tony didn't show up for reheasal one evening. Zizi also started to bring her quirky, effervescent songwriting and sweet voice into the set and the group were all set for a great summer with recording sessions and great gigs booked up into the autumn. This was pretty much the band's peak.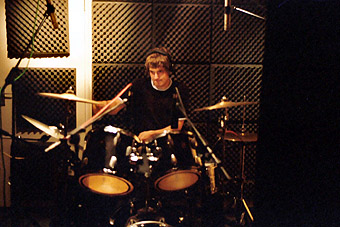 The summer was promising. Returning to the mighty Slap Studio in Brixton with Rory O'Farrel and Simon Smith at the controls again (quality guaranteed) for a week-long stint of dope, Pringles and sweet alternative Britrock, Monophobia laid down their three best recordings ever: Tony's joyful indie classic Wasted, Kian's soulful studio debut Inside and Zizi's Blur-esque power-pop bouncefest Devil's Eye. Beats were laid down for an upbeat gig opener called The Big Picture penned by Phil, but this remains unfinished to date.
2007 RETROSPECTIVE: Tony and Phil did attempt to complete recording of The Big Picture in 2006 for old times' sake, but couldn't remember the chords!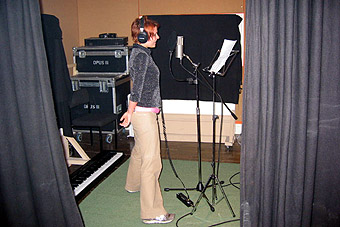 Straight from the studio the band were due onstage that August Bank Holiday for their first open-air gig in Carshalton Park which saw people actually buying Monophobia CDs in front of the stage (Indian Summer and The Clubland EP)while black-hooded nu-metal kids breakdanced in front of the stage to Clubland.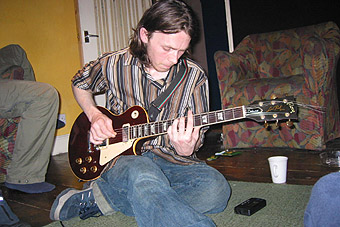 There were more studio dates lined up plus several autumn gig dates at really good venues around London. CDs were finally being ordered (from this website) and the band received their first airplay on an independent European radio station... and were being requested heavily! It looked as though 2002 might actually be the year for Monophobia... until that most ancient of Monophobia curses - THE SETBACK - returned with a vengeful fury and thrice multiplied!
Mixes for a couple of newly-recorded songs (intended as b-sides or album tracks) had come out rather below par. Not necessarily any fault of the engineer, more likely a case of "too many cooks" on the production team.
Zizi Schuh left London in September to continue her studies in Munich leaving Monophobia without a key member of the band. By the time the band found another keyboard player (Peter Jackson), drummer Kian had packed up his sticks to join a covers band. Monophobia's most creative line-up (to date) had vanished within a month.