Tremens and Jeray...
Spring 1998. Tony got back together with Slav and Davor to reform Tremens and Phil gave up on Monophobia to join pop band Jeray formed by Stephen J and featuring future Monophobiac Steve Hearne (guitar), Derek Walsh (vocals) and various keyboard players & dodgy drummers.
Steve Hearne joined Phil for the only Monophobia recording of 1998: Cybersexy Computerlove.
Phil, by now residing in Camberwell, also co-wrote Indian Summer and Save My Life with neighbour Chris Gregory of glam-pop band Valentine Jeep, although only very rough recordings were made at the time.
Another project which went by the wayside was a group called Jackie Powers. Glamorous French singer/songwriter Erika Kholladi and her gifted musical partner Jean (from 80's synth-pop throwbacks Alaska Bent) were the nucleaus of the band, with Phil on bass and synths and another member of Monophobia (who doesn't actually recall ever being in the band, which is almost true) on samples and programming. Drugs and drink problems destroyed the excellent new project very quickly despite serious interest from Peter Jenner, Pink Floyd's old manager.

Jeray got a dodgy manager - Mark Daghorn - who ripped them off for over a thousand pounds and recorded a crap demo tape at his big house in Peldon, near Colchester in Essex.
Interesting fact: Daghorn frequently bragged to Jeray about having managed Stereophonics. Kelly Jones, on the subject of ex-managers, later spoke to the NME about a "dickhead from Colchester" who had taken their money, recorded a crap demo tape at his house and never returned their calls.
1999: Another lost year...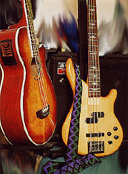 Phil saw the New Year in onstage in Brixton with Chris Gregory as a very temporary member of Valentine Jeep, with another neighbouring Camberwell resident, Mickey Winn, in the audience. Jeray was not celebrating however. The disappearance of two successive drummers right before a recording session (Andy) and a gig (Richard Haythorne) respectively were setting the band back, and Jeray was losing momentum. They had split up by Easter.
(Stephen J has since gone solo under the name XN and has been signed to Peoplesound.com.)
During the lull in activity Phil started teaming up with Mickey Winn, country music fanatic and entrepreneur extraordinaire, to record several demos with songwriter Alex Berry which culminated in a one-off gig under the band name Tramp a year later.
Phil also recorded rough demos of Indian Summer and Save My Life with Chris Gregory. Unknown to Phil at the time, Chris and Mickey had recorded other versions of the songs with another neighbour, Clare Wilkie, on vocals. Clare moved out of Camberwell shortly afterwards to tour with a theatre company before landing the part of Sandra di Marco in the popular BBC TV soap opera Eastenders at the end of the year... before Phil had chance to bag a copy.
Tony meanwhile had become tired of his involvement with the increasingly noisy Tremens (Slav had left and the new drummer was becoming prone to premadonna tantrums), and got back together with Phil in the autumn to record Smash (with Adam Mycroft), which became the last Monophobia recording of the 20th Century*.
Continued on next page...
*Apologies to the pedants who celebrated the real millennium alone and misunderstood in 2001.